Well, here is my one hundredth post, and I'm pleased to be able to do some show-and-tell.
Here are the socks I've been working on, complete and ready to wear, shown on both sides for your viewing pleasure.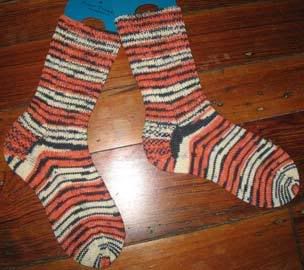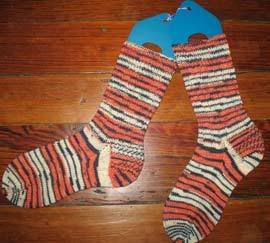 As you can see, they are pretty close to matching, though I didn't even bother to try and get them to match. This is only the third pair of socks I've made for myself, and I think they turned out quite well. The yarn is Opal Tiger, which I've had for a couple of years (at least - I knew I'd get around to it one of these days!), and the pattern is the pattern I use for nearly every pair of socks I make, the
Socks for the Whole Family
pattern from Yankee Knitter. I worked on them mostly during lunch hours at work, and occasionally while watching a movie or TV program. I finished one in February, and the other one this past Friday night. (I have now completed more things already since January, than I have some years for the whole twelve months!)
Not only that, but ...
A couple of weeks ago, when it was my birthday, Karen and Sebastian were very apologetic, because the gift they wanted to get for me had not arrived in time. I know how that feels as the gift giver, because you don't want someone to think you were too lazy to get something in time. But as the gift recipient, I enjoy receiving gifts later, 'cause it's a lot of fun.
Tim went up to spend the morning with Sebastian today, and brought back two birthday packages for me. One was a bag full of little samples of fancy shampoos, hand creams, etc., and a nice Walk Around the World for Breast Cancer pin from Avon (which as it turns out, was for me from a friend of Karen's. Nice, huh?). Then there was a larger package, and when I opened it, I laughed out loud, because here's what was inside: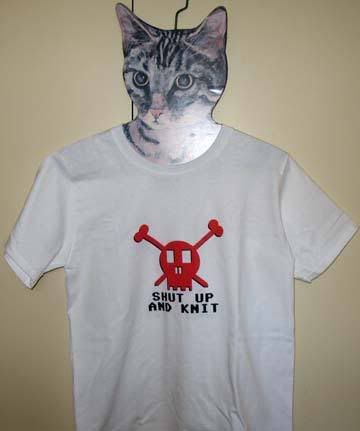 I'm not sure you can see what it says, but it's Shut Up and Knit" - is that great or what? The Molly hanger is modeling it, because I am in no condition to model anything, since I've been prepping for three days for a medical procedure tomorrow (nothing major, just annoying). But I think Molly does quite a nice job of showing it off, don't you? (Yes, I know I have glare from the flash. Don't push your luck right now by pointing it out to me ...)
I cannot tell you how much fun it was to open the packages, and how the shirt cracked me up! It says the same thing on the back, so I can spread the message coming and going ...
Between finishing my socks, and opening my packages today, a weekend that was otherwise less than stellar turned out to be pretty good after all. Thanks Karen, Seb, and Lucy!*
**Lucy is their sweet kitty cat. Like ours, she helps to send cards and give gifts.