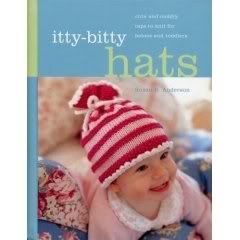 About a month ago, on a day I was helping out at
Rosie's
, a customer came in and wanted to buy yarn for several projects in a book she had recently purchased. The projects were all kinds of baby hats. I like making baby hats, not just because they are funny/cute/whatever, but also because I actually finish them!! So I asked the customer if I could leaf through the book while she was choosing yarn. And that is how I became a fan of
Itty Bitty Hats
, by Susan B. Anderson (Artisan Publishing, 2006).
This is a great book for people like me, who enjoy making baby hats, but aren't very good at figuring out how they could be different (style, embellishments, etc.). There are 36 patterns, most of them unisex. Where there are more than one possibility (color-wise, for example), there are additional photographs.
The photos themselves are very nice-sized, and clear. The book contains information about basic knitting skills, which is OK, since I can see this as a book that someone who has mastered the basics might want to buy, so they can try knitting in the round, using double pointed needles, etc. And that section of the book is really quite brief, compared to some others I've seen. The patterns begin with a simple, rolled-brim hat and go on to show variations on that theme, or additional styles. I am one of those people who has to (ok,
needs
to) use a pattern, and I am not very visually creative, so even just seeing the photos gave me a lot of ideas of how I could change things from hat to hat.
I have not tried any of the patterns yet, but at first glance, they seem to be clearly written. The paper used is glossy, but also pretty substantial. The binding is a spiral binding, but with a cover over the spiral to make it more like a regularly-bound title. This is definitely a bonus as far as I'm concerned. (OK, here's where my inner catalog librarian comes out ...) The binding allows the knitter to have the pages open and flat while reading the pattern and knitting, while also allowing the book to be more agreeable to shelves in a library. Due to the cover on the spiral binding, the spirals won't catch on anything, the book won't always lean to the side (because it can't sit flush on the shelf with others), and,
you can put a call number label on the spine!!
That means that library patrons can see the call number without having to pull the book out, or off the shelf. I commend the publisher for using this style, I wish more publishers of spiral bound books would use it. The binding and the weight of the paper used would probably mean it could survive a lot of use over the years, unless you are someone who is just incredibly careless.
Overall, I liked the book. Really the only thing I thought was unnecessary was right before the introduction, where they have placed a photo of a serene-looking white woman, sitting in a rocking chair knitting. (Puh-leeze.) But that's just me, and the fact that it isn't the cover illustration makes up for it.
I think this would be a good book for just about any level of knitter. Beginners could "get the hang" of knitting hats, while intermediate knitters could learn some new styles and ways of embellishing their knitting. Advanced knitters could likely use it as a jumping off point for other designs.
As for me, I'm sure I'll be using the patterns at one point or another. All of my friends and family who have babies now expect a knitted hat. Which is fine with me, but I try to make each one at least a little bit unique, and that can be a real challenge. I think that
Itty Bitty Hats
will really broaden my baby hat horizons.