I mentioned in my last post that now that the baby sweater that I knit as a gift was finished, I could return to other projects. One of them is
My Blue Sweater
, which was moving along rather quickly until it wasn't. I'm afraid that I completely ignored it while working on the little gift. I think it understood, because when I picked it back up to continue, it had not done anything nefarious to foil me - you know, like sometimes when you've ignored a project, and you pick it back up and don't remember where you stopped, or stitches have fallen off the needle, or the pattern has disappeared. Nope, this was just patiently waited for me to pick it up again and give it some love. I managed to finish the body to where the pattern said to pause, and got started on the first sleeve. I've made some good progress, considering I had to rip back a couple of times when I realized I'd been working away, forgetting about increases ... I tend to mess up when I get too proud of myself. :-)
Here is my progress thus far. I'm liking the way it looks, though I will admit to being curious to see how the sleeves will end up attached to the body of the sweater. But a little mystery is a good thing, right? It's a pleasant knit, and a good one to work on while watching/listening to podcasts, or if you just want to knit but don't want to concentrate intensely.
My current read is also pleasing to me. I decided to read this book when Sue of
High Heels in the Wilderness
mentioned it - she has never steered me wrong so far!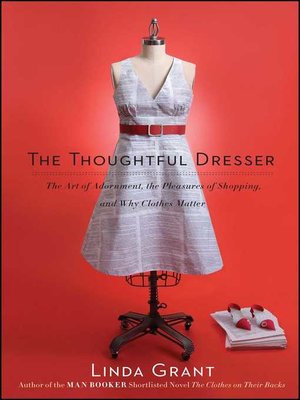 I'm approximately halfway through, and enjoying it so much that I am purposely not reading it all of the time, so it will last. Though I will have to finish before it's due back at the library! I love how the writer discusses the way that what we wear can influence our feelings, our confidence, and how style is not fashion, etc. It's very well-written, and each chapter is one that could stand on its own as an essay.
I haven't started my April pair of socks yet, but I'm thinking they will be a shortie pair. I finally wore the shortie pair I knit last year over the weekend, and wow - handknit shortie socks are a whole 'nother story from store-bought! I should have known that, but to be honest, I just figured that short socks were never terribly comfy because they didn't cover any of your leg. More the fool am I.
And that's my story for today. I'm joining in with Kat and the others for
Unraveled Wednesdays
- stop over and see what everyone else is reading and knitting!