This seems to have been a week where some people were in rare form - and not always in a good way! It was topped off this morning for me when, on my way to work, a woman with a really cute dog came up and stood next to me waiting for the light to change to cross the street.
Me: Your dog is really cute. Is it a puppy?
Woman: Just shut the f*** up and don't EVER ask me that!
Ooooo-kay. I tried to think of why she was so mean and rude, and yes, maybe she had already been asked the same thing 100 times before I saw her. But you know what? She is lucky to have a healthy [looking] dog. And I know that even when I was in the deepest darkest of moods, if someone said anything at all to me about Dug, I was nice in my response, even if it was a brief one. Because it takes two seconds to say something nice and go on with being in a crap mood.
Anyway.
But other stuff also happened.
Yesterday, for instance, was Poem in Your Pocket Day. I was going to post a poem, but got completely distracted with this below, and was unable to think of looking up any other poem in the universe without laughing so hard I cried.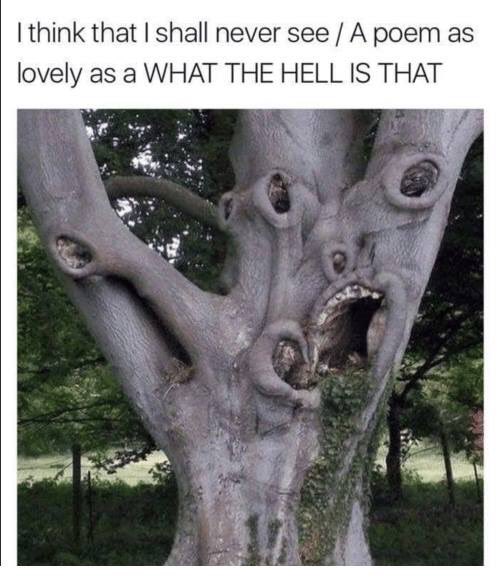 It's still hilarious to me today. This will likely be one of those images where I will only have to think about it and it will amuse me. Forever.
Then there was the Bill Cosby trial, which has fascinated me from the get-go.
Last year:
Me: Wow, look at these allegations against Bill Cosby - that's nuts!
The Tim: Everyone has known about him for years, that's nothing new.
A. No, everyone hasn't known - I didn't. B. How did The Tim know this??? He will often come up with things like this, and after I have time to think about it, I'll just wonder how in the name of a small black dog named Pete he of all people knew.
In any event, I was irritated last year when they declared a mistrial and this time around for various reasons I really wanted him to be found guilty. I was 100% convinced it wouldn't happen though. But then it did! I still can't believe it. We were talking about it at work yesterday, and then when I got home, The Tim and I were discussing it for a while. We stopped though because:
Me: Isn't it ironic that it happened on the first day of the Penn Relays?
The Tim: Yeah, he was always running around there, being recognizable.
Me: Do you think now Bill Cosby has to go around to all of his neighbors, knock on their doors, and warn them he is a sex offender?
The Tim: You are getting way too much amusement out of this. Could we please talk about something else?
Buzzkill.
One more thing on that topic though, and then I promise to move on.
This article
in today's New York Times is really interesting.
On the topic of funny headlines, someone on Twitter posted this headline:
Duchess of Wales Gives Birth to Baby Boy : Palace
and then commented: "Palace is a crap name."
And then apparently the Daily Mail (in the UK) had a headline that needed some editing:
Rachel Weisz Walks Red Carpet for First Time Pregnant with Rachel McAdams
Which reminded me of a clipping from our hometown newspaper that my sister sent to me a few years back that never fails to amuse me. There was a picture of a heavy-set woman smiling broadly and a story below about how she had been elected to some local office. But the headline right next to the photo said: "Blimp Visits Wheeling." because of local excitement that the Goodyear Blimp was going to be on display for some reason. To use an expression of my friend Lisa, it's Fried. Gold.
Of course there were lots of other things good and bad that happened, but that's it for now. I hope everyone has a good weekend, with some nice springtime weather. We have no specific plans, but I have a few things rattling around in my brain, so who knows what may or may not happen?