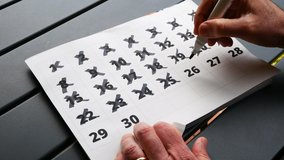 OK, maybe not dusted because I haven't gotten that done yet, but today is the last day of November, and I managed to post every day for NaBloPoMo (National Blog Posting Month), which pleases me. I enjoy giving myself small challenges, and it makes me happy when it works, since I am the first to admit that a lot of times I lose steam on my challenges/ambitions after a week or so.
I don't know if it's because of being home most of the time, or if I was just more in the mood for it all this year, but unlike other years when I would have a hard time coming up with topics, or even forget altogether, this year it was less daunting. I will also admit that two things helped: 1) I would try to think the day before about possible topics, and b) I realized that every day didn't need to be a long, involved post about something specific. That helped a lot.
Of course, you were the ones stuck reading, so who knows how you must have felt about it ... 😏 In any case, thanks for showing up and even leaving comments, I had fun doing this.
Our long holiday weekend was quiet and really enjoyable. Hamlet responded well to the medicine and the rest the vet recommended, so we're hoping he is on the road back to being his usual self. I got my hair cut on Saturday morning, which is always a way to feel better for me. We had a couple of Zoom get-togethers with family and had a good time laughing together. I started a new cross-stitch project, which is a fun one and will probably go quickly (I probably could have gotten a lot more finished than I did, but put it away at one point to actually try and do something other than just stitch all day. Plus, now I have working on it some more to enjoy). We did a lot of just enjoying the time, and that is always my favorite way to spend any weekend.
Today it is supposed to pour rain all day long (it's already started, but fortunately Hamlet and I got our morning walk in before any drops), so I made sure to keep the things that are definitely inside activities to at least start today. I want to pay the bills (ugh), wrap a few gifts to have them ready to mail, and clean up some small messes I've made (putting things away that I piled up on a chair, etc.). I'm also going to pull out the Christmas cards so that I can get going on them this week. I am determined that this year of all years, I'll send some cards.* I think even people who may not normally care if they receive them will enjoy it this year, since at least in theory they haven't had as many chances to communicate with others as much.
I'm not sure if you'll hear from me quite as much in December, but as you know if you have read this blog for a while, it is one of my most favorite times, so there's a better than good chance I'll be here more often than not.
I hope the last day of November is a good one for you, and that we all have something to enjoy this week, when December shows up whether we are ready or not!
*if your lifetime dream is to receive a card from me, feel free to send me your address at: thekittyknitterATverizonDOTnet. I love to send and receive cards!