Why does Monday mean you have to go back to work? Sigh. I know the answer, but still ...
How was your weekend? Ours, as you might expect, was quiet. I'm grateful that I did not have anything I absolutely had to do, and could just feel, and be, and do whatever. We are all still having a rough time, so it was nice to stay put and be together.
However, it was a lovely weekend, weather-wise, and though I couldn't find it in myself to go out into the garden other than to water the clematis I planted a couple of weeks ago (and which seems to be happy, which is a nice thing), it was nice to have the windows open, and to take Hamlet for walks that didn't completely exhaust both of us from heat and/or humidity. That really helped overall.
Did you participate on Saturday in World Wide Knit In Public Day? I really didn't do anything in public this weekend, but it looked like a lot of my Instagram friends were enjoying the event, and I hope it made others at least smile, if not think that maybe they might want to learn. Having said that, I did do a lot of knitting and also some cross-stitching, which was good because it kept my mind occupied, and I felt like I was doing something useful.
Besides that, it was also a big weekend here in Philadelphia for other reasons. Yesterday especially, when at one side of town there was the Pride Parade, and on our side of town, was the
Odunde Festival
. So people were everywhere, celebrating and having fun, and being lucky with the weather for a change. In the morning when I took Hamlet for his walk, we walked along the main route of the Festival, where the vendors and food tents were setting up. Hamlet thought it was great, because nearly every person spoke to and/or petted him and made a fuss. I think he would have happily spent the day there, just soaking up attention. I love seeing the colorful things for sale, and even though I am a vegetarian, the smells of the grills still say summertime to me.
Here are a few photos - that I did not take, but were published in the newspaper, etc. - showing the events and crowds.
From the Parade: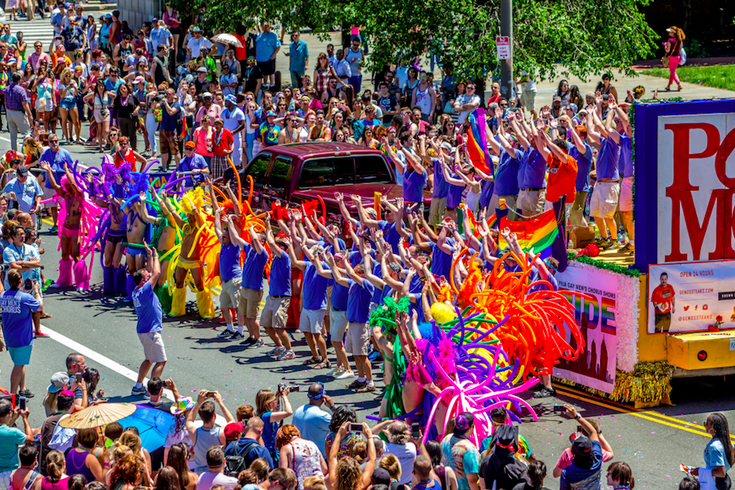 Gritty, the mascot of the Philadelphia Flyers (who is both ridiculous AND awesome), attended:
From the Festival (this is seriously right around the corner from our house):
This morning, it's rainy and cool, and so very quiet in the neighborhood, it's almost impossible to think that all of this was just yesterday.
But I'm glad it was a good day for so many people, because life should be about enjoying yourself, instead of only about work and worry. Sometimes you just have to swallow hard and keep going, but that's the way it works. And for everyone at these events, seeing their happiness and joy makes you feel that maybe the world has something going for it after all.
*****
Finally, I want to thank each and every person who read my last post about our sweet Jack, and also those who wrote such heartfelt and lovely comments. Most of you are people I have never met, or probably never will meet, but just the same, your thoughts and prayers made a huge difference for me. For those whose e-mail addresses I had, I am pretty sure I responded (I hope I did!), and if I dont' have your e-mail address to respond, please know that I appreciate that you took the time to write something. I generally don't respond in the comments, because a) I completely forget to do that, and b) a lot of the time - as in this case - I am not quite ready to revisit the post anytime soon. Nonetheless, thanks to all of you, from us and from Jack. xoxoxo