Hello and Happy Wednesday! I'm joining with Kat and everyone else today in
Unraveled Wednesday
, not because any unraveling has happened, but because I am
thisclose
to having three knitting projects finished!
On the base layer here is my For the Birds top, which needs only a neckline, woven in ends and a good blocking to be finished. My goal was to finish it before the end of the year, and I think that - even with the other things going on related to holiday time, I can meet that goal - YAY!
The green stringy thing on the left is the second of the fingerless mitts I am making for The Tim. Two fingers done, just the index finger, pinkie finger, and thumb to go. I thought the second one would go more quickly, but not really. I think because I don't get to work on it as much as I'd like. At the moment, it has still not been seen by The Tim, so I want to keep it a surprise.
On the lower right is the second of my Holly Berry Socks. I realized when I stopped knitting the other day that I had only knit one row of each of the small rows with white at the top and bottom before the charted pattern - and you are supposed to knit two rows! But I'm not ripping back all of it, particularly since these are for me. Theoretically it will bug me, but I'll live.
So that's the knitting part.
As for reading, I just started
How the Light Gets In
, by Louise Penny. It's the next (for me) in her Armand Gamache series, and takes place at Christmastime, so it's the perfect storm of reading right now!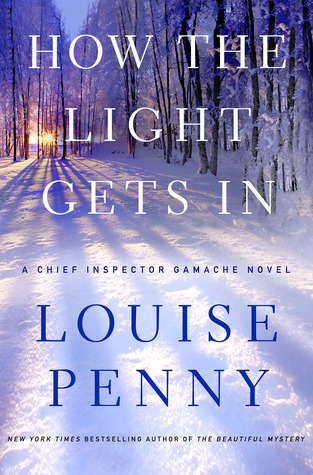 I hope your knitting and reading are keeping you happy and merry these days!