Thank you so much for all of your kind comments about my finished sweater! When I got home yesterday, and changed my clothes, I thought as I put it away, "I made this!" It was a nice feeling. I doubt I'll become a big-time sweater knitter (mainly because a sweater's worth of yarn costs a lot of money, even if the yarn isn't a luxury brand!), but I'm a lot less hesitant about the concept now. So until I get hit in the face with a major failure, I plan to try it all again.
Today I wanted to share something with you about being fortunate but also having to pay more attention to what you do, what you buy, and how you spend your money. I thought you might find it helpful as a different way of thinking about what you can/cannot do during the holidays. (Please note, I am not a certified financial advisor, nor do I play one on TV!)
Back in May, a week or so before Memorial Day, The Tim quit his job. He had been working for Barnes & Noble for 20 years, most of that time as an assistant store manager. And he LOVED it. From what I can tell/what I have heard, he was also really good at it. About a year and a half ago, a new store manager was hired who was, from all accounts, a real piece of work. By the time the first year of this person's time there was over, The Tim was one of only a few of the employees - managers and booksellers alike - left from the original group of people that worked there previous to that, most of whom had been there for quite a while, though not as long as he had been. (Most employees were part-time, so in any given store, there are not many full-timers.)
The Tim complained about this manager quite a bit (which is NOT a part of his personality at all. I'm the official Family Complainer), and even discussed a few issues with the District Manager, who for reasons unknown still always thought this person walked on water. Back in April, The Tim mentioned that he really got the feeling that the manager was looking for a reason to fire him, and would not stop at making something up. So he told me he was going to quit.
This still shocks me, to be honest, because in all of the years we have been married (going on 40!), this is only the fourth job he has had. In each of the other cases, he either got a promotion, or we moved someplace because he was offered a job. So I understood that things must have really been unbearable for him. The good news was that because he had been there for so long, his severance package meant we would have our health insurance and his regular pay for a three-month period. I am 99% sure he thought he would have something else by then, and things would go along as usual.
I could have told him differently, but considered it none of my beeswax, since he has always been able to find things without much trouble. But as I was finding out, no matter how qualified you might be, and no matter how level the playing field is supposed to be, no one wants to hire someone over 60.
So eventually his salary stopped, and so did our health insurance. Fortunately (but only to a point) I could get insurance through my job. It's incredibly crappy, but I guess it's better than nothing. It also means that more than 1/2 of my monthly check goes towards paying for that, and trust me, things have gotten tricky!
Here's the good thing though: we both are really good at being poor. I grew up that way, he grew up a step above that, and we were living on fumes for most of our married life before. So we know we can do it again. However, when you are used to having a bit of a cushion and good health insurance, there are a lot of adjustments to be made!
A few weeks ago, he did start working three-days a week at Avis/Budget Rent-a-Car as a Fleet Manager, which basically means he takes cars from the main office here back and forth to the airport rental places, and others in the area. He loves to drive, so that part works. And though he is paid very little and there are not benefits, he gets paid every two weeks, which means we are not going with only my monthly paycheck.
OK, that was long-winded to get us here. But anyway, I realized a few weeks ago that this was not a year I had been planning to knit Christmas gifts for everyone, so I would need to figure out a way to still have something to give without a) knitting my fingers to the bone and Making Arthritis Great Again, and b) not having to spend a lot of money. And yes, I know I don't
have
to give any gifts - but I LOVE doing it, and want to if I can in any way.
The good news is, I think I have figured it out, and it will still be enjoyable for me. :-)
I came across a site recently that had an easy recipe for making sugar scrubs using sugar (duh) and essential oils. There is a place nearby that has essential oils and they are very reasonably priced. Plus, we always have sugar, especially when baking during the holidays. Idea #1.
I also saw and printed out a pattern for mini-heating pads, where you sew the fabric pieces, fill them with rice and sew the last seam, and then they can be microwaved for 30-45 seconds to put on a sore muscle, or a headache, etc. We have TONS of rice all the time, and I have a small fabric stash. Idea #2.
For any of the male persuasion, I have an idea of a small but inexpensive gift that I can buy for each of them. A local coffee place is near our house, and my nieces and spouses who have visited and tried it are obsessed with it. They will get coffee, particularly since a discount is offered when you buy more than one bag. Idea #3, and the one that will cost the most, but still not much, especially considering the two above will be incredibly inexpensive.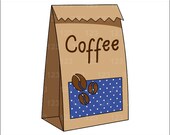 So only the littlest kiddos are left, and I have a small stash of gifts that I've just bought now and then for giving at some time in the future, meaning I should be all set.
I cannot tell you how much better I felt once I got this all worked out! I love giving small gifts at holiday time, and would have been truly disappointed if I had not been able to have anything.
I'll let you know as I go along if this works/doesn't work, but I think this will be successful.
As for The Tim and any gifts for him - well, that's a whole 'nother post!
DISCLAIMER:
We do not in any way hate Barnes & Noble - we still shop there online, and at other physical stores, just not the one near us where he worked.