Well that weekend certainly whizzed by! Yesterday morning when I woke up, I just couldn't believe that it was already Sunday - though reviewing the day before in my head, I realized that yes, it was in fact Sunday and the last day of the weekend. Boo.
Our weekend was a mix of things. I made a small list of what I hoped to get done, and was able to check off the major things (the minor things are always there, so I don't feel too bad about not doing them). I always like it when I can do that, but still have time to relax and just enjoy the fact that it's a weekend. It helped that yesterday was icky and rainy here all day, so I had no desire to venture outdoors other than taking Hammy for some walks. He wasn't too crazy about getting wet, so he didn't want to stay out too long, either!
I finally decided on my word for 2022, but before I write about that, let's review my success or lack thereof with my word for 2021:
forward
Well, I remember when I chose this word, I was full of the hope and expectation that 2021 would be a year that just went forward for me and for the world in so many ways. I truly believed that the pandemic would move towards ending, I felt that since Joe Biden and Kamala Harris were going to be in office, things would definitely improve, and I also thought that things at work would improve, because I was going to try really hard to make it happen. Plus so many other things in my life that I was sure would make this word meaningful to me.
So ... this may not have been the best choice for me. The only thing that actually worked was Joe Biden and Kamala Harris being sworn in, but of course, only after the insurrection. And whereas, they were able to amp things up regarding vaccinations, stimulus checks, etc., almost everything else has been a deadlocked fight, and continues. And although the vaccine became widely available, it became a whole thing with people and their "freedom" and "Constitutional rights." So much for the common good.
There was - maybe two weeks? - where we all were told we didn't have to wear our masks 24/7, etc., and people felt a bit more comfortable, but then of course the Delta variant steamrolled in, and well, here we are.
And then, of course there was my workplace. The less said the better.
I did make some small forward moves - I got back into exercise on a regular basis. But for the one step forward, I went two steps back when I was injured and had to stop. Then we went back to work 5 days a week, and I ran out of energy to do anything but make it through the day. Depression had a good year moving forward, but I did not.
Granted, some things that made me feel like my word was a lost cause were out of my control. But I never really got myself together to make it work the way I wanted it to, which is the first time that has happened to me since I decided to choose a word for the year.
So I'm moving forward with "forward," and letting it go. Maybe sometime it will show up for me again and things will go better. I sure hope so!
Obama understands. 😉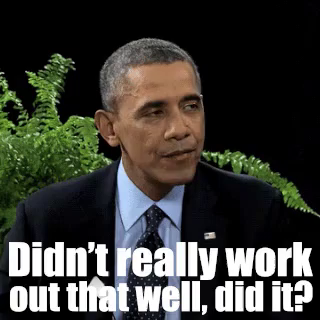 Let's hope this week is at least boring, if not really good!