Hello all - well, I missed posting yesterday, as I was dealing with a gastrointestinal bug, and basically spent the day in the bathroom. It was frustrating, to say the least, but fortunately today is better, so I'm back. :-)
How are all of your holiday preparations going along? We are doing pretty well, which is a nice feeling. Some plans got interrupted on Saturday, but we just moved along and it was all good. Saturday evening, I made a batch of
Butter Almond Toffee
, which turned out really well. Sunday morning, I met my friend Andrea for a coffee date, and then I came home, put dinner in the crockpot, and spent the rest of the day getting decorations out and organized. So it was a good weekend overall.
Sunday night I woke in the middle of the night with my stomach churning, and that pretty much took care of sleeping much as well as most of Monday's plans. Is it wrong that I am just glad it didn't ruin the weekend???
I'm not sure how the weather has been where you are, but here in Philadelphia, it's been a lot colder than it usually is this time of year, which is fine with me, but in the past few days, I've seen some interesting sights. Granted, not everyone else bundles up like I do, but most people wear coats at least. Last Friday, when I was walking back from my occupational therapy appt on my way to work, I saw a young woman coming towards me wearing sneakers, and a pink leotard and tutu. No coat, no scarf, nothing else. She did not appear to be homeless or otherwise compromised, though I wonder about her mental state. Though maybe I shouldn't, because she didn't look like she was cold, even though the temperatures were in the high 20s.
Then this a.m., walking to work, I saw a woman with really bright green hair, short shorts and a bra top walking around. Even if she was coming from a session at the gym, I would think that would have been an inadequate outfit. But, who knows, maybe she is of hardy stock?
To recap, this is how I was dressed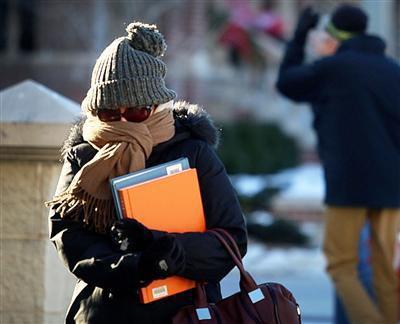 while they were going around somewhat like this
So who knows? Maybe *I'm* the one who's missing something ...