Around the middle of last summer, we received a notice from our mortgage company telling us that our mortgage would be paid off as of January 2022. We had known it was coming to an end, but were THRILLED to know when the exact date might be. And knowing it was at the start of the new year seemed like a lovely holiday gift.
We liked the idea that our front door would really be ours!
As well as our garden!
And so we went happily along, making a list of what we would then be able to afford to have fixed/done in and to the house once that mortgage payment was off the list of bills. And trust me, there's a lot that has to be taken care of - starting with a new roof and, shall we say, "going down" from there.
Fast forward to the second week of October, when we received a letter from the mortgage company informing us that since we have paid our final payment, an escrow check would be mailed to us, and we would receive the deed to our house "sometime in the next month."
Wait - how did "your mortgage will be paid as of January 2022" become "we'll mail you the deed now that you've paid off your house" without anything happening in between? According to letter #2, we made our last payment with the October payment. So who was telling us the truth?
I decided that I would not be content with just the correspondence - nope, I was going to speak to a human being at our mortgage lender's office. Because *only* when I had someone's name, position title, and had spoken to them myself was I going to believe it. I had visions of thinking we had finished paying, and then suddenly getting notices that the mortgage for three months was overdue, etc.
So I called. And after pressing numbers to get to the next prompt, and being on hold for 20 minutes when I finally got to a human's phone extension, I spoke to a man named Andrew ____, who was a Mortgage Lending Supervisor. I explained the contradictory letters we had received, and said that I wanted to find out just *exactly* what was going on. So he looked into it, and told me that in fact, October was our last payment, and they had sent the escrow check the day before I called. According to Andrew _____, we would receive our deed in the new year, and the mortgage company would contact the city to let them know to bill us directly for taxes, etc., but it would be up to us to contact our homeowners' insurance company to tell them to bill us.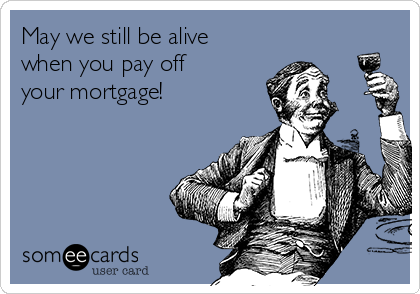 So we did it! We lived until our mortgage was paid off!!!!
This also means that for me, I have lived in one single location for 30 years - a record. The longest I'd lived in any one place before was the 7 years we lived in DC, and even then we had changed apartments once.
So what we thought would be a nice holiday gift ended up instead being a nice anniversary gift.
Who'da thunk it?