Hi all. I hope everyone is doing well, or at least as well as you can be doing. This is not an easy time to keep your chin up, with so much happening all at once to try and stomp down any little bits of happy and/or contentment you may feel.
I have been feeling quite bereft lately, not just for myself (which I am prone to, unfortunately, whether or not it's really real), but for the world at large. Election crap, Putin's determination to ruin Ukraine, climate change, almost all of the -isms and -ogyny are at an all time high, abortion rights, guns, guns, guns being the answer to everything. For me, there are times when even though a lot of it has been ongoing, it all seems to be a punch to the gut and it's hard to not just stay a little positive, but to feel that anything you are trying to do to help is not even worth it anymore.
Sometimes there is nothing that can really help me feel better, no matter what I try or how others try to help. But other times, small things can at least make me smile and even give me a genuine laugh and so for those few minutes, things are better.
Two examples from recent days:
Saturday was the Kentucky Derby. Growing up, we *always* watched it on TV, as my parents were die-hard fans of horse racing. When they would go to the track in person (usually we went as a family), we always hoped my dad's horse would win, because if he won, he would generally give us a share of his bounty. But my mother had two hard and fast rules about horse races: 1) ALWAYS bet on a gray horse, and 2) always bet on the long shot, because "you never know what might happen." Even if she placed a bet on another horse more likely to win, she would also always place a $2.00 bet on a gray horse and/or a long shot. Which of course my father thought was ridiculous.
Anyway, this year a long shot horse came from behind - last, actually - to win the whole thing! The odds were 80-1, meaning that my mother would have come away with her $2 bet yielding $160.00 and some change. This pleases me even now, thinking about it. Along with the comment she would likely make to the effect of "Shows what your father knows." Even if it happened once every 5 years, she would make sure to point out that my father was not always the expert he thought he was ... 😏
The second thing making me smile arrived in the mail yesterday: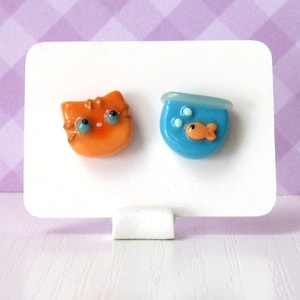 I ordered these earrings from an Etsy
shop
mentioned on a podcast I was watching last week. They were very inexpensive, and the kitty and the goldfish in the bowl just really amused me. I figured they would be a fun pair to wear, and the colors are so summery, they just appealed to me.
I have to tell you, they are even better in person! I opened the package, and was so pleasantly surprised. The Tim said, "So ... you bought those for YOU?" and when I said yes, he just shook his head. You know, because he is NO FUN, people! These earrings are awesome, and I shall wear them tomorrow to my therapy appt because my therapist has a orange cat named Marmalade, and she is always bringing me up to date on his antics.
I still don't feel better about most things going on. But these two small things - one event and one pair of earrings - gave me a reason to smile and be happy.
I hope you find a small thing or two that helps you.